World's 50 Best 2019
Mirazur Dinobatkan Sebagai Restoran Terbaik di Dunia
Rabu, 26 Jun 2019 06:27 WIB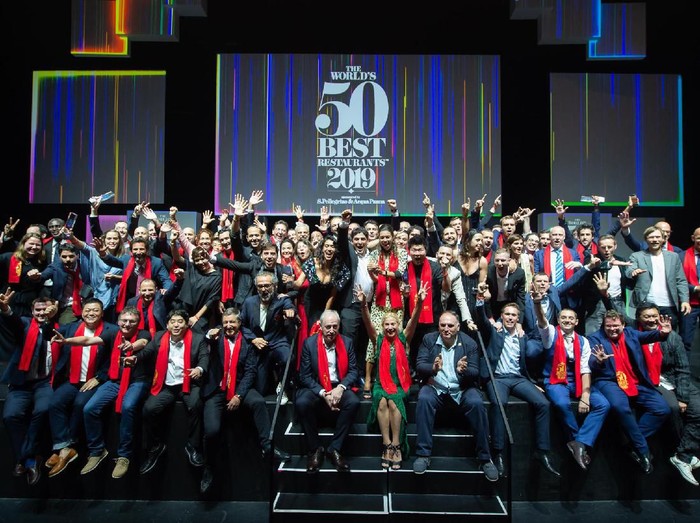 Foto: Dok. The World's 50 Best Restaurant
Singapura
- Daftar 50 restoran terbaik di dunia dirilis semalam dalam perhelatan
'The World's 50 Best Restaurant'
. Restoran Mirazur menduduki peringkat pertama.
Pengumuman daftar 50 restoran terbaik di dunia versi
'The World's 50 Best Restauran

t
'diselenggarakan di Marina Bay Sands (MBS) Expo & Convention Center pada Selasa (25/06).
Acara yang dihadiri oleh para chef dan pelaku bisnis kuliner internasional ini berlangsung meriah. Puncak acara ini ditunggu oleh para chef di dunia dan pelaku bisnis kuliner.
Tahun lalu Mirazur, restoran di French Riviera,Menton, Prancis milik chef Mauro Colagreco menduduki peringkat 3. Tahun ini restoran berbintang 3 Michelin ini dinobatkan sebagai restoran terbaik di dunia.
Baca juga
:
Singapura Jadi Negara Asia Pertama Tuan Rumah 'World's 50 Best Restaurant' 2019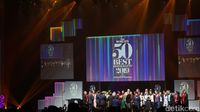 Foto: Lusiana/detikfood
Namun di
The World's 50 Best Restaurant
tahun ini ada peraturan baru. Restoran yang menduduki peringkat nomor 1 sebelumnya tidak akan menduduki posisi yang sama tahun ini. Seperti Osteria Francescana milik Massimo Bottura yang tahun lalu ada di posisi pertama.
Berikut daftar lengkap peringkat 1-50 The World's 50 Best Restaurant 2019.
1. Mirazur (Menton, France) Chef: Mauro Colagreco
2. Noma (Copenhagen, Denmark) Chef: Rene Redzepi
3. Asador Etxebarri (Atxondo, Spain) Chef: Victor Arguinzoniz
4. Gaggan (Bangkok, Thailand) Chef: Gaggan Anand
5. Geranium (Copenhagen, Denmark)
6. Central (Lima, Peru)
7. Mugaritz (San Sebastian, Spain)
8. Arpège (Paris, France)
9. Disfrutar (Barcelona, Spain)
10. Maido (Lima, Peru)
11. Den (Tokyo, Japan)
12. Pujol (Mexico City, Mexico)
13. White Rabbit (Moscow, Russia)
14. Azurmendi (Larrabetzu, Spain)
15. Septime (Paris, France)
16. Alain Ducasse au Plaza Athénée (Paris, France)
17. Steirereck (Vienna, Austria)
18. Odette (Singapore)
19. Twins Garden (Moscow, Russia)
20. Tickets (Barcelona, Spain)
21. Frantzén (Stockholm, Sweden)
22. Narisawa (Tokyo, Japan)
23. Cosme (New York City, USA)
24. Quintonil (Mexico City, Mexico)
25. Alléno Paris au Pavillon Ledoyen (Paris, France)
26. Boragó (Santiago, Chile)
27. The Clove Club (London, United Kingdom)
28. Blue Hill at Stone Barns (Pocantico Hills, USA)
29. Piazza Duomo (Alba, Italy)
30. Elkano (Getaria, Spain)
31. Le Calandre (Rubano, Italy)
32. Nerua (Bilbao, Spain)
33. Lyle's (London, United Kingdom)
34. Don Julio (Buenos Aires, Argentina)
35. Atelier Crenn (San Francisco, USA)
36. Le Bernardin (New York City, USA)
37. Alinea (Chicago, USA)
38. Hiša Franko (Kobarid, Slovenia)
39. A Casa do Porco (São Paulo, Brazil)
40. Restaurant Tim Raue (Berlin, Germany)
41. The Chairman (Hong Kong)
42. Belcanto (Lisbon, Portugal)
43. Hof Van Cleve (Kruishoutem, Belgium)
44. Test Kitchen (Cape Town, South Africa)
45. Sühring (Bangkok, Thailand)
46. De Librije (Zwolle, Netherlands)
47. Benu (San Francisco, USA)
48. Ultraviolet by Paul Pairet (Shanghai, China)
49. Leo (Bogotá, Colombia)
50. Schloss Schauenstein (Fürstenau, Switzerland)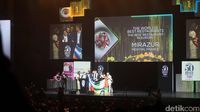 Foto: detikfood
Selain itu juga diberikan beberapa penghargaan untuk beberapa kategori:
Best Pastry Chef: Jessica Préalpato (Alain Ducasse au Plaza Athénée, Paris)
Best Female Chef: Daniela Soto-Innes (Cosme, New York City)
Icon Award: José Andrés (ThinkFoodGroup, Washington D.C.) One to Watch: Lido 84 (Gardone Riviera, Italy) BBVA
Scholarship Winner: Andersen Lee Sustainable Restaurant Award: Schloss Schauenstein (Fürstenau, Switzerland)
Chefs' Choice Award: Alain Passard
Highest Climber: Azurmendi (Larrabetzu, Spain)
Art of Hospitality Award: Den (Tokyo, Japan)
Baca juga:
Meriahkan 'The World's 50 Best' 70 Karya Seni Makanan Dipajang di Orchard Road
(lus/odi)